Warm Welcome
To the End of Year Celebration
Agenda 22. December 2021
(all timings are in CET / GMT+1)
15.30 – 15.45 Admission (Agenda, technical information) with live piano accompaniment (at the ship)
15.45 – 16.00 Welcome speech
16.30 – 17.30 Karaoke with Lynda Loo at the Bar
17.00 – 17.45 Live piano on the board of the ship
17.30 – 18.30 Open Mic by DJ Vio at the Disco
18.30 – 19.30 Cocktail show at the Bar (Cocktail recipes)
19.00 – 20.30 Escape room (Art Heist) games at the Casino
20.00 – open end "we carry on" – Group Photos @ the Photo Booth and discover Gather Town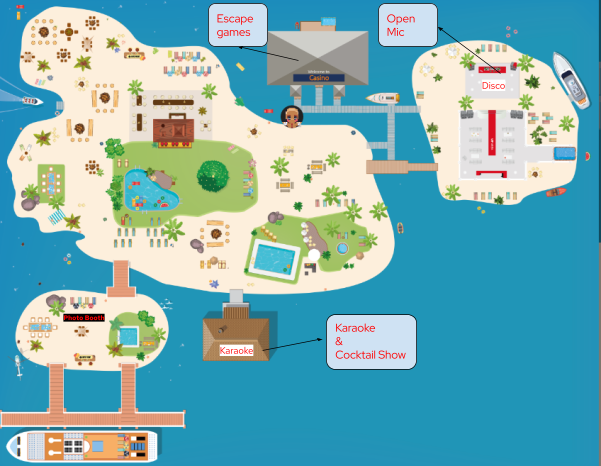 Below we have provided a short instruction PDF for you. Use the "Join the Party" button to come to the party. Select your name (last name, first name so that the participants can search and find each other more easily) and your avatar. Release your camera and microphone (not an OBS camera) and use the "Join the Gathering" button to immerse yourself in the exotic Karibik world.
Have fun!
A desktop computer or laptop with a webcam and audio input

An up-to-date browser, we recommend to use Google Chrome

Headphones / headset recommended

Mobile devices do not have all necessary functions!

No installation or setup needed
How Gather.Town works

Meetingland is based on the Gather-Technology. This means you can chose your avatar freely and explore the space on your own, meet colleagues and just have small talk.

Navigate with your cursor on your keyboard. Speak to people closeby or with people in the same private space.

As soon as other participants are close, you see their webcam video and a converstion window opens up for individual chats or talks in groups.
22. December 2021, 15.30
Red Hat - End of Year Celebration