DEMO
DEMO RAUM

30 Tage KOSTENLOSER Gather Demoraum für bis zu 10 gleichzeitige Nutzer

Perfekt zum Kennenlernen der Gather Plattform mit deinem Team. Wird ohne individuelle Brandings und Spezifikationen bereitgestellt und ist 30 Tage mit bis zu 10 gleichzeitige User*innen freigeschaltet.
KURZZEIT
EVENT SPACE

+4€ pro Nutzer für 24 Stunden ODER +8€ pro Nutzer für bis zu 1 Monat

Unsere 2D oder 3D Designs für Corporate Events, Konferenzen, virtuelle Messen, Hackathons und mehr. Die Produktionspreise beginnen je nach Raumanzahl, Größe und Anforderungen bei etwa 2.400 EUR mit unseren 2D Templates und ab etwa 6.500 EUR für das Design und die Implementierung fotorealistischer 3D Umgebungen.
PERMANENT
REMOTE WORK

+8€ pro Nutzer pro Monat (ab 6 Monaten reduzieren wir auf je 7€)

Gerne konzipieren, gestalten und begleiten wir auch dauerhafte Nutzungen, z.B. als Remote Work Office für dein Unternehmen oder eine virtuelle Lernwelt für eure Universität. Hierbei bieten wir auf Wunsch auch reine Support- und Lizenzverträge ohne Designs an.
All prices quoted are net prices plus 19% sales tax if your company is located in Germany. For invoices to companies abroad, we will invoice only the net amount and show our VAT ID number for the application of the reverse charge procedure, if applicable.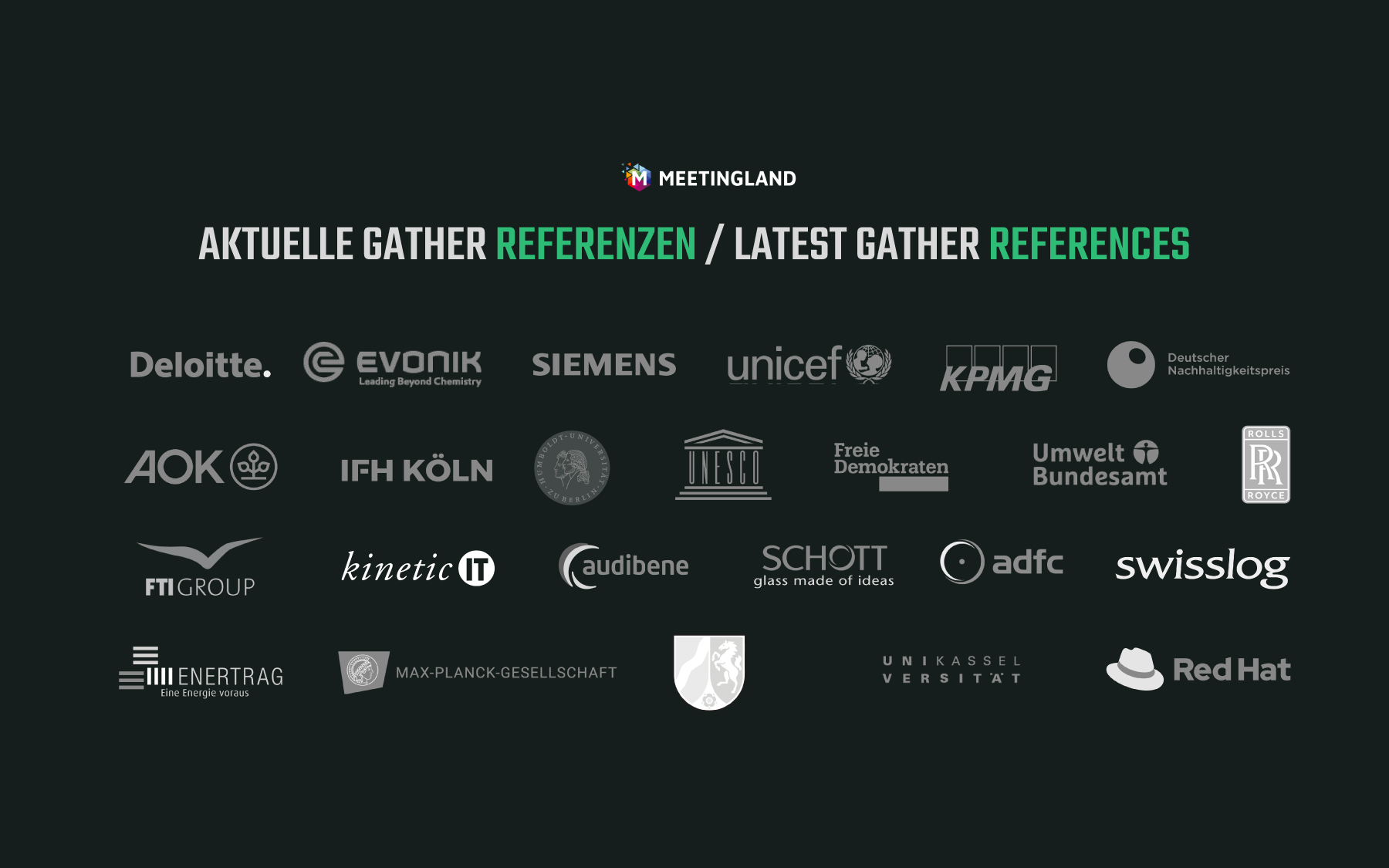 Meetingland Reviews
4.6 out of 5 stars (based on 174 reviews)
Gut gelaufen
Lief alles gut, Verbindungen gut
Event- & Teilnehmermanagment

Persönliche 1:1 Gespräche

Freier Austausch mit allen

Präsentieren & Bildschirm teilen
My sound or video is not working. What can I do?
Pascal Gebert
2021-09-16T08:18:39+02:00
Check if Meetingland works on your PC / Desktop with the browser Google Chrome
Re-open the browser completely with Meetingland after closing other applications (like Zoom).
It can cause problems if you refuse or block the microphone/camera permission. To unblock the permission for our application, look for the pop-up dialog in the address bar (video icon). Here is a good guide to
Video & Microphone in Google Chrome
check.
The biggest culprit of this error is another app recording your camera and preventing other apps from accessing it. This happens especially often when you use other video calling tools like Zoom at the same time. Close the other application to fix this error
Click on your name below and then click on "Video and Audio Setting". There you can select / change your webcam and microphone / headset.
For further assistance, please refer to the English language help page of our technical service provider
Gather.Town
.